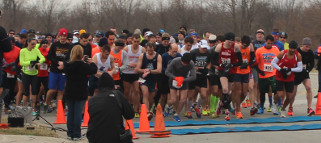 Distances
The 47th Annual Sam Costa Half Marathon, certified by USATF, is 13.10938 miles. The 11th Annual Sam Costa Quarter Marathon, also USATF certified and sponsored by Mike Helms, DPM, is 6.55469 miles.
Date and Time
The Half Marathon starts at 9:00 a.m., and the Quarter Marathon starts at 9:10 a.m. on Saturday, March 19, 2016.

Note: Central Indiana observes Eastern Daylight Savings Time.
Course
Enjoy scenic suburban neighborhoods and some winding, rural roads. Costa veterans will experience nostalgia for the way the course felt 20 years ago! The half marathon and quarter marathon are both certified (IN10003MW and IN09032MW, respectively).
New For 2016
All women's shirts will be gender-specific, v-neck, and cut specifically for women!
Medals
We know that some of you love finisher medals, while others couldn't care less. Let's compromise! For 2016, we are again offering optional Sam Costa Half Marathon finisher medals for only $12 through March 8, 2016. These medals will be substantial, artistically crafted, and feature the "Costa" detective logo.

In addition, we will again be distributing medals to the top 50 overall finishers in the half marathon!
Location
Both races will start and finish at Northview Church, Carmel, IN. The church is located at 12900 Hazel Dell Parkway, 2 miles east of Keystone and just west of the Hazel Dell Parkway/Main Street intersection.